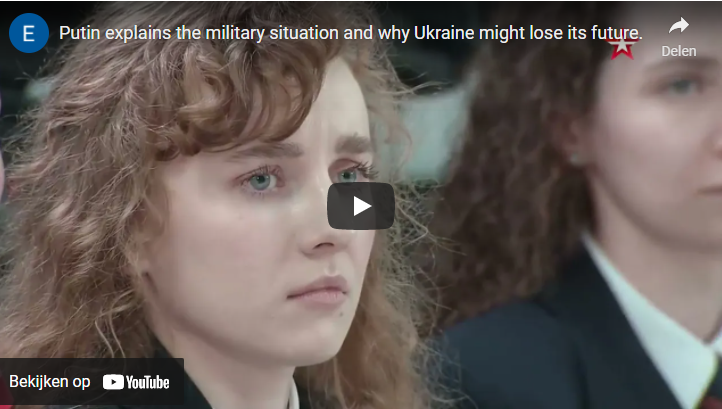 Extremely important statements by Putin (MUST SEE!) (thesaker.is)
Bron: thesaker.is
As some of you know, Putin spoke at length with a group of Russian flight attendants. This is such an important statement that I asked one of our interpreters (thanks E.!) to subtitle the video.  I am also posting the transcript below. In this exchange, Putin spells out in quite some details WHAT Russia is doing and WHY she is doing it.
My question concerns the current situation in Ukraine. We all support your actions and the special operation that is underway there. Naturally, the most important question, which, one way or another, all of us have asked ourselves, is why this special operation has started. Could it not have been avoided? Rationally, we do understand and support your actions, but as women we cannot help but worry: for our family, relatives, for those who are in Ukraine. We know that the civilians are not impacted. But nevertheless, tell us, reassure us: what are we to expect at the end of this road? What will be the end result of the military operation in Ukraine?
I will be brief but still will have to start, as they say, from "the center of the field". I said about this at the start of the operation and also spoke about this before this decision has been made, a hard decision, without a doubt.
What is this about? The fact of the matter is that after the anti-constitutional coup in Ukraine, which, unfortunately, was strongly supported by the Western countries – let us face it. They do not even hide the fact that they have spent $5 billion on it, not to mention cookies given away on Maidan, and so on. And after that, instead of bringing the situation back on track, even if it had spiraled out of control, even if it had been the act of the overzealous locals – there is such legal term, i.e. planned one thing, but the result turned out to be something else – they still could have, and should have, returned the situation back onto the political track.
Furthermore, shortly before the coup, the foreign ministers of the three countries came to Kiev in 2014 and signed an agreement with the Ukrainian government acting as guarantors of this agreement to ensure that the situation would be developing in the political sphere. But nothing like that occurred. They organized a coup d'état and supported the perpetrators. What followed were the well-known events related to the Crimea and the southeast of Ukraine, Donbass, where people refused to support the coup. As we know, the Crimea made a decision; people came to vote in a referendum to return to the Russian Federation. Naturally, yes, naturally, we cannot but support that decision, al the more so, since they felt they were in danger from the nationalists and neo-Nazis. There is strong evidence that they were absolutely right in that.
Klik hier om verder te lezen en de video te bekijken. U kunt Nederlands instellen.
Of de video op youtube bekijken